Browser Benchmark - Safari 11 vs Chrome 63 vs Firefox 57 (Quantum)
- Last modified at
Google Chrome is my favorite browser. Since 2013 I always use Google Chrome as my main browser. But after Firefox Quantum and Safari 11 are released, I am curious to compare those with Google Chrome
So I decide to benchmark Safari, Chrome, and Firefox with my Macbook with these specifications:
Machine: MacBook Pro (Retina, 15-inch, mid 2015)
Operating System: macOS High Sierra 10.13.2
Processor: 2,5 GHz Intel Core i7
Memory: 16 GB 1600 MHz DDR3
Graphics: Intel Iris Pro 1536 MB
Browser versions:
Safari 11.0.2
Google Chrome 63.0.3239.108
Firefox 57.0.1
Benchmark Safari 11 vs Google Chrome 63 vs Firefox 57 (Quantum)
Ares-6
ARES-6 measures the execution time of JavaScript's newest features such as arrow function, arrow, and string interpolation. Surprisingly, Firefox 57 three times slower compare with Safari 11. Winner: Safari 11.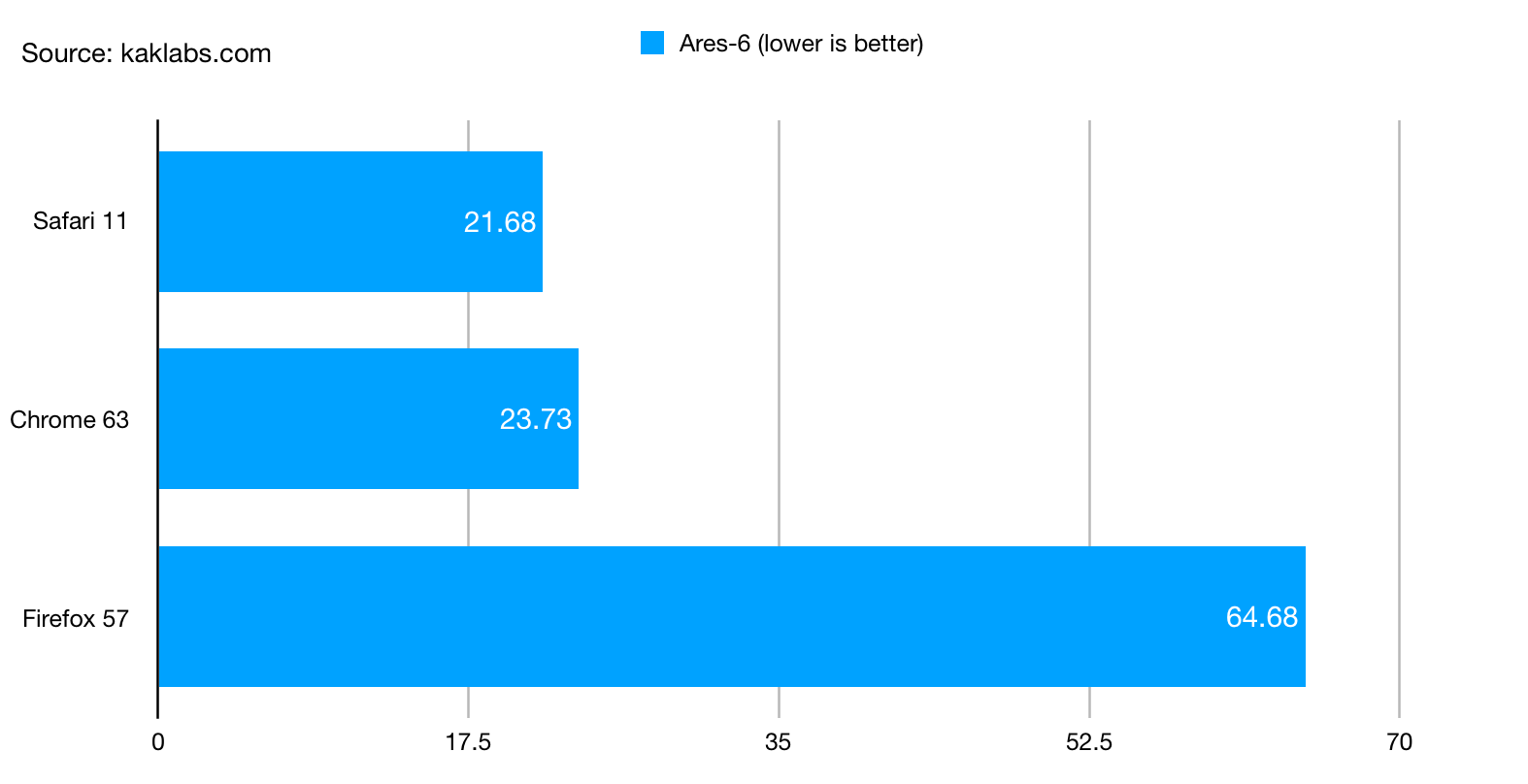 JetStream
JetStream is a JavaScript benchmark suite focused on the most advanced web applications such as pdfjs and zlib operation. Score of Chrome and Firefox are almost tied, but Safari's score is far higher than both browser. Winner: Safari 11.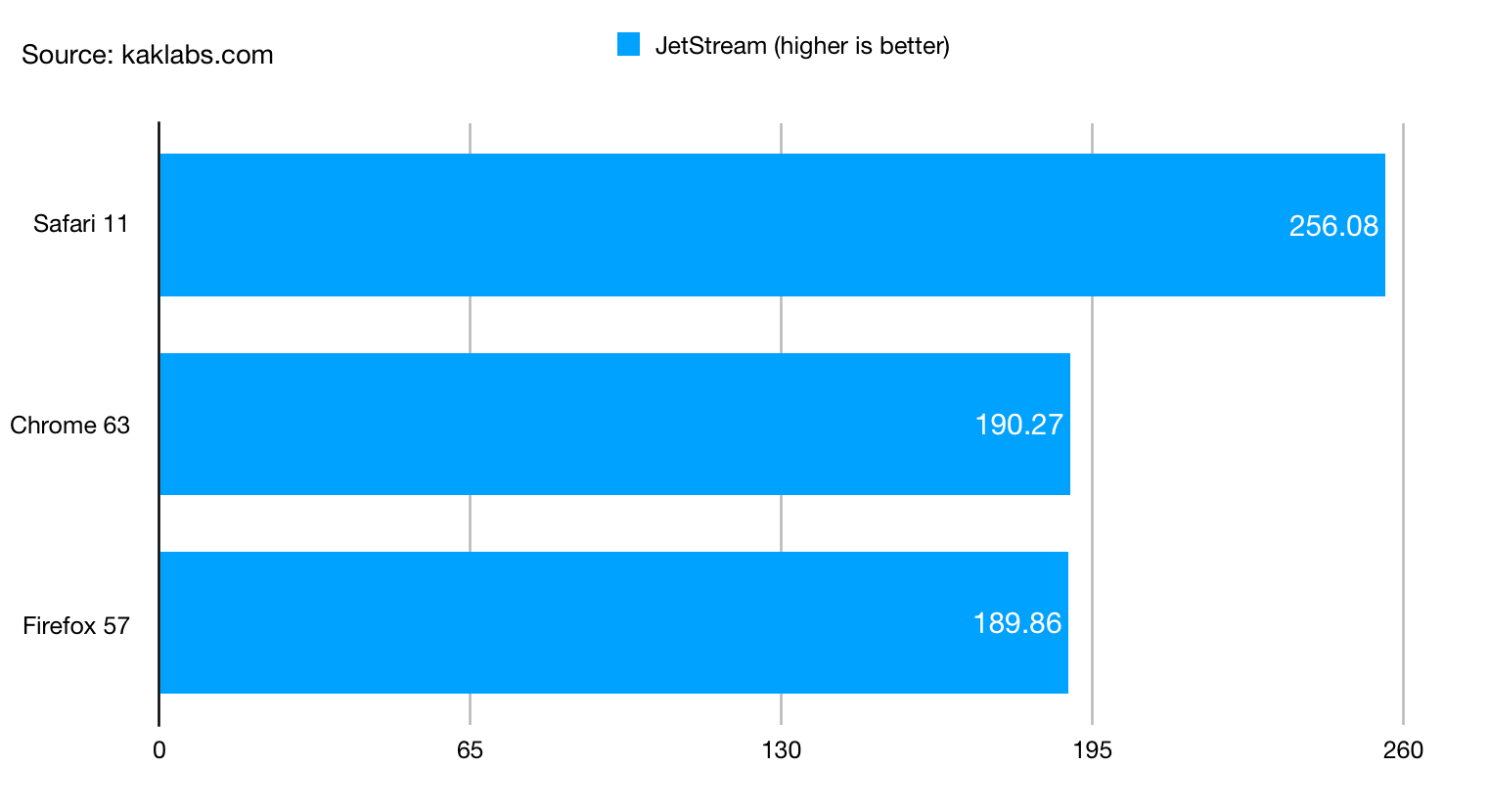 Kraken
Kraken is benchmarking tool from Mozilla. Although it's developed by Mozilla, Safari 11 has the best performance for this benchmark. Winner: Safari 11.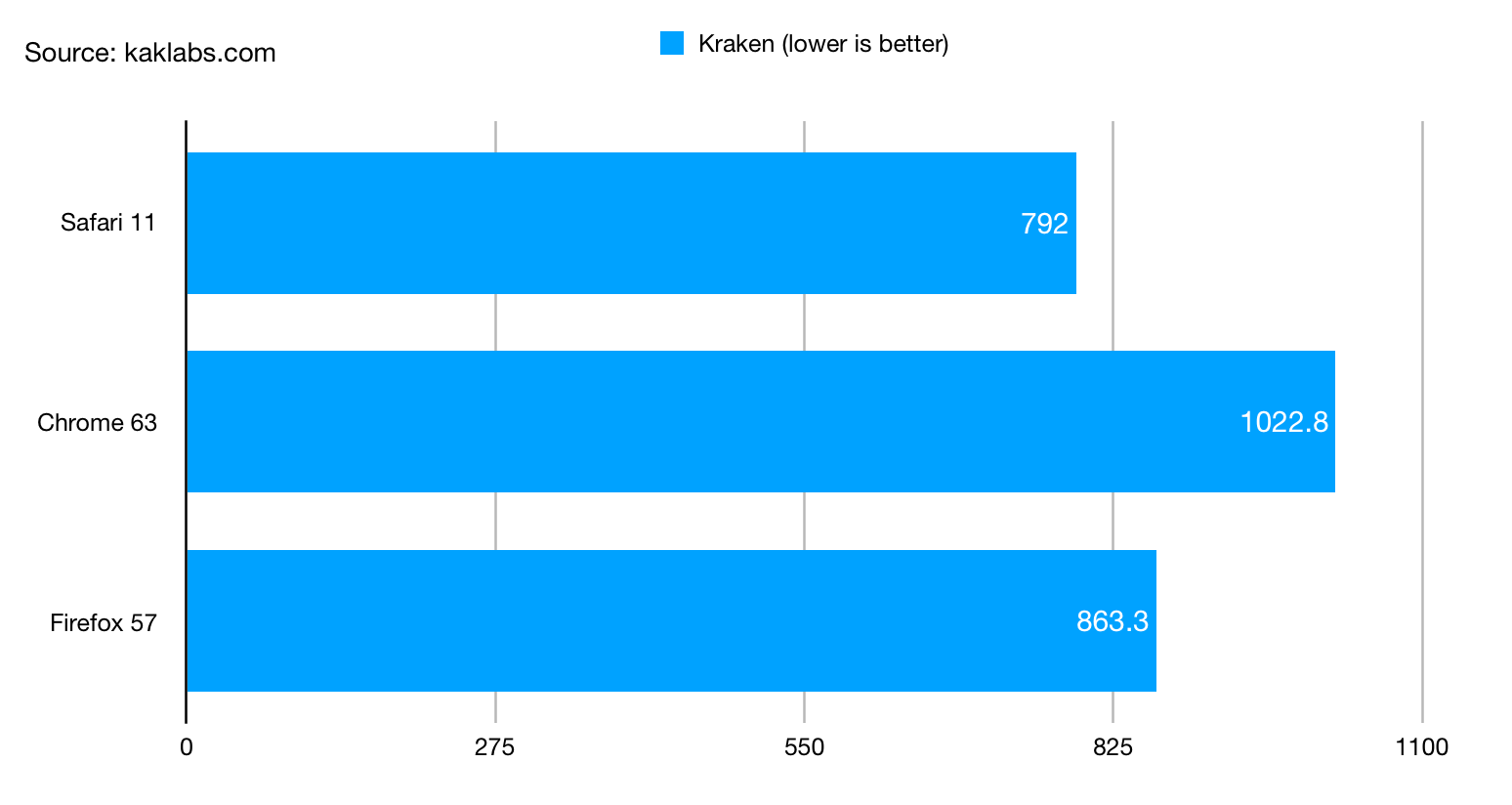 MotionMark
MotionMark is a graphics benchmark that measures a browser's capability to animate complex scenes at a target frame rate. Both Google Chrome and Safari has score more than 400, but surprisingly Firefox's score is below 120. Winner: Safari 11.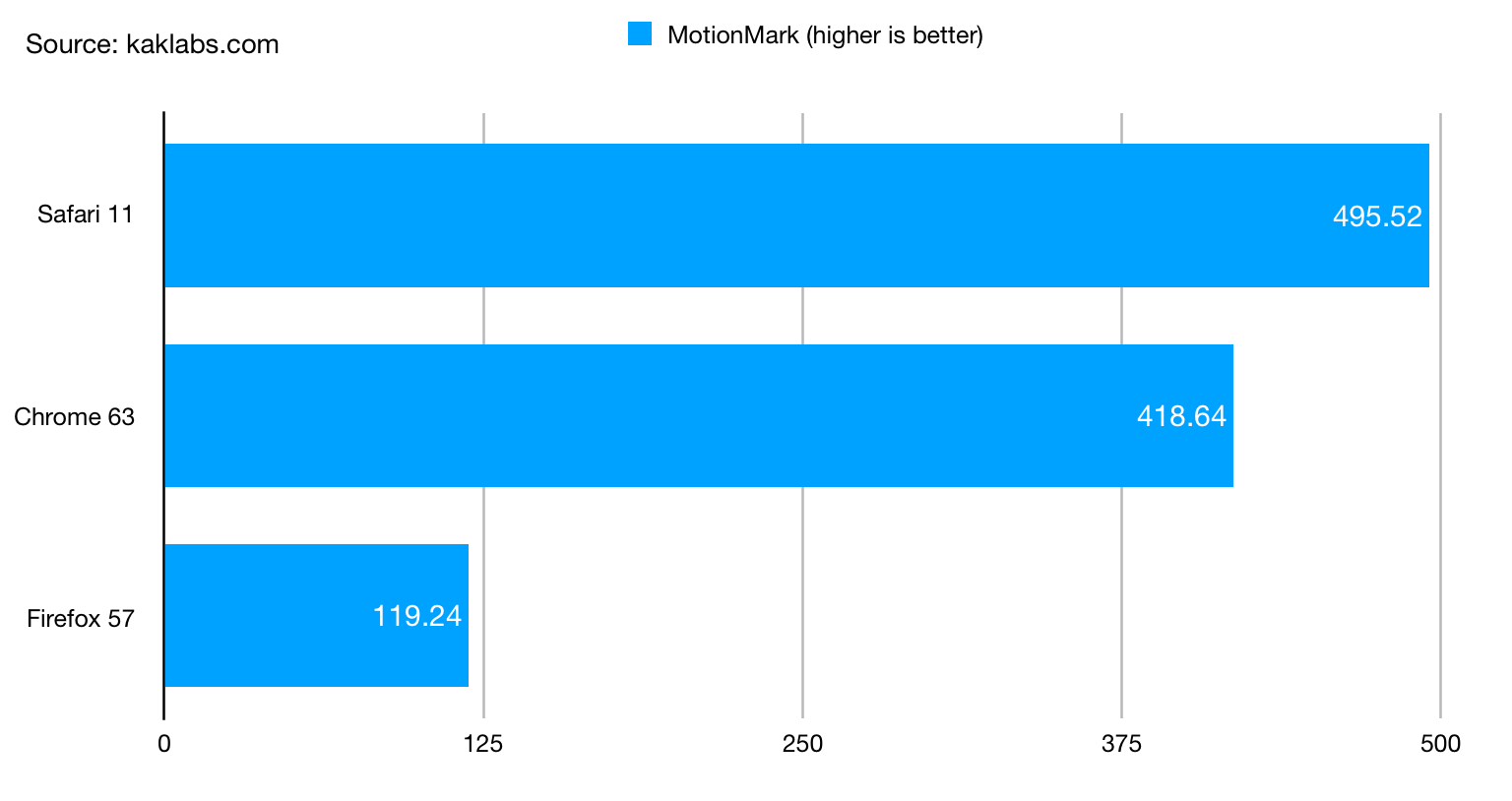 Speedometer
Speedometer is a browser benchmark that measures the responsiveness of Web applications. It uses demo web applications to simulate user actions such as adding to-do items. Winner: Safari 11.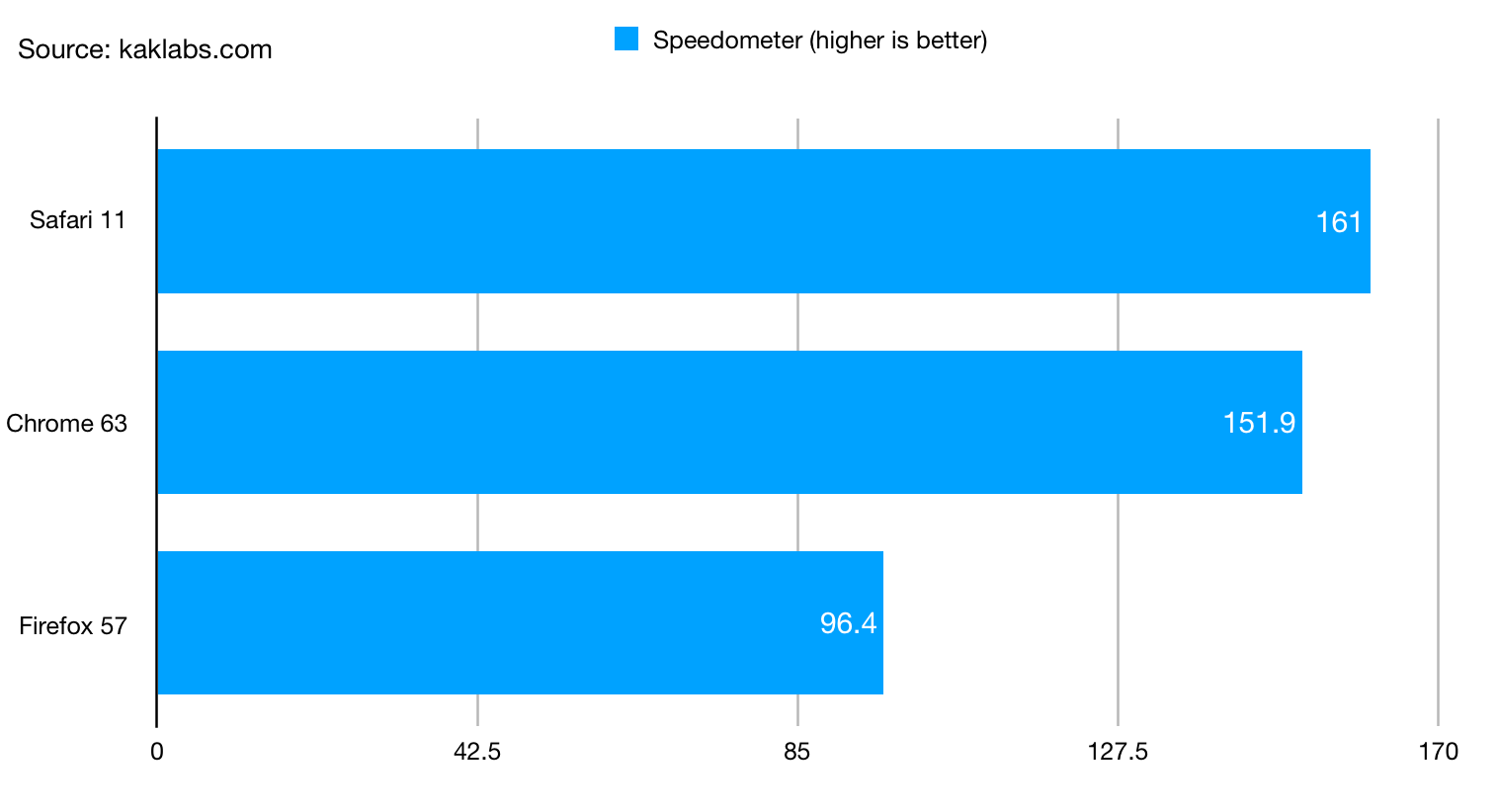 Conclusion
Based on this benchmark, Safari 11 is always get the best result. I think this is not suprised because Safari is designed to work under macOS ecosystem. Apple also claims with Safari we can watch Netflix twice longer. Based on these result, I decide to make Safari 11 as my main browser.
Sponsored Links