ID-Ruby - Indonesian Ruby Community
- Last modified at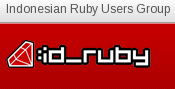 ID-Ruby is a community of ruby users in Indonesia to learn together about ruby and to provide a place for ruby developers to meet friends and network. The group meets up at least once a month with talks, demos, hacks and discussions. ID-Ruby Meetup is informal, free, and open to public. Everyone are welcomed to participate.
Following Ruby increasing trend through the years, id-ruby has been growing and holding monthly meetups. Active Slack group with over than 300 members covers sharing sessions online.
In 2017, id-ruby grows bigger by creating Tangerang, Bekasi, Bandung, and Jogja branches. To accommodate this needs alongside the optimism to grow even bigger, id-ruby transforms to a legal non-profit organization under PERKODI (Perkumpulan Pengrajin Kode Indonesia).
Sponsored Links